"I'm not sure if this'll be a throwy toll or a handy toll..."
Quote. Of. The weekend.
I'm beginning to realize that detailed accounts of my weekend adventures aren't as riveting as they are in my own mind. Taking this into account, I'll just cover the good stuff.
For starters, Aryn and I visited our Dobermans' breeder this weekend. We also got to hang out with our friend Lisa and her dogs, which was extra special for me because she has Ronin's brother Jackson. Even though Jackson is a lot bigger than Ronin, he still bears a striking resemblance to my dearly departed red whirlwind. I really enjoyed spending time with him - it was
almost
like seeing Ronin again. Of course, Jackson is no spring chicken and isn't as agile as he once was, so in that sense it was bittersweet.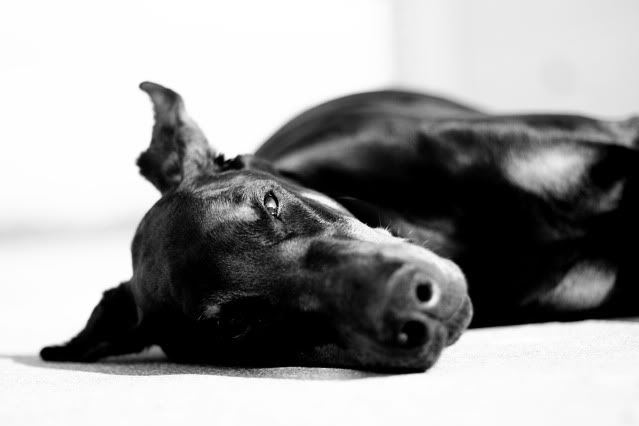 Okay, I'm depressing myself. Let's switch to a happier subject... puppies! Sandi has an adorable litter of puppies right now, sired by Nick (Ch. Cambria's Out For Justice) and out of Savannah (Ch. Bruda The Artist Is Savannah) - they're beyond cute. Lots of boys, including a big, bold red male with a green collar that reminds me so much of Jayne. Whoever gets The Tank had better be prepared for a wild ride!
Our super-secret plan (which isn't super-secret anymore, I suppose) was to shop at IKEA after dropping off a foster dog with another Illinois Doberman Rescue Plus volunteer. Aside from the hectic drive to Schaumburg, the experience was amazing. Everything in IKEA is super-affordable and 100% awesome. For less than $90, I bought a duvet cover with two pillowcases, two pillows, a few kitchen funnels, a knit throw, a few bath mats, several bars of Swedish chocolate and a giant stuffed alligator for Jayne. I think there may have been more, but IKEA's amazingness has fuzzified my memory. I must return to IKEA. With a U-Haul truck. And more money.
I hate driving in Chicago. Apparently no one in Chicago understands the signs that say Speed is Radar Monitored. To me, that means, "drive the speed limit or get a ticket and die, punk!"
But noooo,
everyone drives 70-80ph on the 55mph, radar monitored tollway. Since driving with the flow of traffic is safer than driving the posted speed limit (especially when everyone else is tailgating, honking and cutting you off) I was forced to drive 70mph. If I get a ticket in the mail, I'm going to have to crush some heads.
Also, Illinois tolls suck. Next year I'm getting an IPass, because effective January 1st the cash toll rates are increasing from $1.90 per car to $3.60 per car. Also, there are a
ton
of tolls. This trip alone, I must have forked over more than $15 just on tolls. We never knew what kind of toll was coming up, so we had several methods of payment ready at every turn. "Throwy tolls" had little plastic nets into which we threw coins. "Handy tolls" had a little person in a booth to which we handed over a few dollars every fifty miles or so.
Throwy vs. Handy.
Now you understand the Quote of the Weekend.
(Also.... don't ever rewind the poop. Three times is enough.)