I'm going to do the 52 Weeks project again, and this time I mean it. Last year our challenges fizzled out, so I didn't see the point in continuing. This year we have all 52 challenges predetermined and listed out, so there will be
no
fizzling!
Here are the rules for this year:
1. Main subject of the picture must be a dog but does not have to be the same dog for the entire 52 weeks
2. Pictures should be taken within the week that the theme is posted for. Not the end of the world if you took it early though, things come up, I understand!
3. Themes are open to your interpretion, but please try to stay within the themes.
4. Catching up is allowed!
5. Folders will be made at the beginning of each week, please submit pictures into that week's folder.
6. Only one picture per member per week!
This year, I'm going to keep track of my progress by including the entire year's list and marking off the ones I've done. And so it begins....
Week 1 (Jan 1-7) - Portrait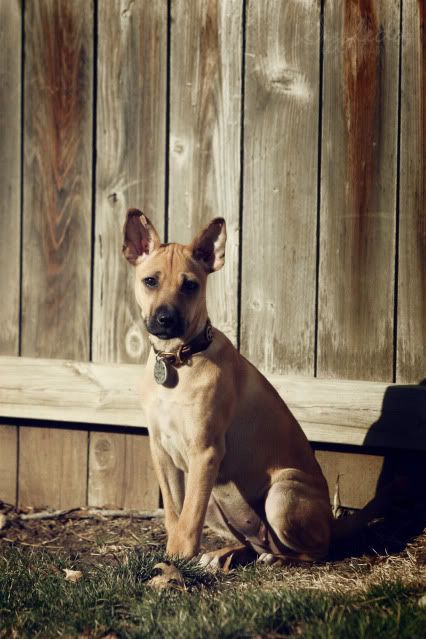 1/52 Portrait

2/52 Best Friends

3/52 Monochromatic (Greyscale)

4/52 Not So Serious

5/52 Not Supposed To Be Here

6/52 What is on me?

7/52 Will You Be Mine?

8/52 I Don't Want To Share!

9/52 Caught Red-Handed

10/52 Can we be friends?

11/52 These Are My Eyes

12/52 New Perspective on Things (Shoot from a unusual angle)

13/52 This is My Nose

14/52 Shot From the Hip

15/52 Easter!

16/52 Doppleganger

17/52 Playing Dress Up

18/52 Silhouette

19/52 Action!

20/52 Playing With Composition: Square Crop

21/52 Picture Trio! (Three pictures in a series)

22/52 Remember The Fallen

23/52 School Pictures!

24/52 This is My Tail

25/25 Show Me Some Muscles!

26/52 Turn Down the Lights

27/52 Support Your Country

28/52 Get Outside!

29/52 Those Are Some Funky Moves!

30/52 Play With Composition - 1:3 Ratio

31/52 Focus on Something Else (Shoot with your dog out of focus)

32/52 Sepia Tone

33/52 Time For a Nap

34/52 Stand on Something!

35/52 Cool It (Cool Tone)

36/52 Warm It Up! (Warm tone)

37/52 Not ok With This!

38/52 Can I Have That?

39/52 Tight Spaces

40/52 Running!

41/52 Get on the Ground! (Shoot from the ground)

42/52 Playing With Composition: Panoramic

43/52 Favorite Toy

44/52 Boo!

45/52 From Up High (Shoot from higher than your subject)

46/52 Living Life Indoors

47/52 Give Thanks

48/52 Playing With Composition - 1:1 Ratio

49/52 Exploring

50/52 These Are My Feet!

51/52 Playing With Composition - 1:5 Ratio

52/52 Happy Holidays!