If you show in UKC, you've probably already heard about the new rule concerning show secretaries not being able to show their dogs at their own shows, effective July 1st 2012. In case you haven't heard, you can read about the rule change
here.
I'm not a show secretary. I'm not a member of a UKC club. I'm just an enthusiastic exhibitor that will probably never be able to show my dogs in UKC after July 1st... or until UKC realizes what a terrible mistake they've made and repeal the new rule.
UKC isn't like AKC. AKC shows draw hundreds - even thousands - of dogs, professional handlers with huge mobile rigs, a dozen or more judges and a multitude of vendors. Due to their size and complicated nature, professional superintendents manage entries to these shows. UKC shows, on the other hand, are run by clubs made up of fellow exhibitors - people like you and me, who love spending time with their dogs. The volunteers that make UKC shows happen are not paid for the hundreds of hours they put in so that the rest of us can title our dogs. They're okay with the huge chunk of "donated" time because they are able to show their own dogs at their own shows. With UKC's new rule, they won't be able to show their own dogs.
Would you spend hundreds of hours planning and managing an event in which you cannot participate? I sure wouldn't, especially knowing that the only way for me to title my own dog would be to find a show put on by another club somewhere else, where some other poor schmuck has spent hundreds of hours working on an event from which they're barred from participating.
UKC prides itself in the fact that their exhibitors
handle their own dogs
. Secretaries and other club members are now being told to find other people to show their dogs... to me, that seems to be advocating the use of "handlers." Sure, they may be unpaid, but it's still taking the show lead out of the owners' hands and putting it into the hands of another. That is not what UKC is all about.
So how does this affect me - a simple exhibitor? Well, we usually travel several hours to the shows put on by the few UKC clubs in the region. Our shortest drive is roughly
two hours
. The other clubs (and their shows) are
four to six hours away.
At least one of our favorite clubs - the one whose shows we attend more than
any other club
- will no longer be hosting shows after July 1st as a direct result of the new rule.
UKC conformation is relatively new in my area. I have worked hard to encourage the "AKC folks" I know to register with UKC and attend UKC shows. I can no longer recommend this, since we'll all probably have no shows within an 8 hour radius after this rule change. I love UKC, but I'm not willing to drive 8 hours to a show. I don't even do that for AKC anymore.
Here's my plea to UKC: Repeal this rule. I understand your intentions are good, but you are punishing
so many good exhibitors and clubs
for the negligence and mistakes of a few. If you want your shows to grow and prosper, this is the worst possible way to go about it. With no shows, your registrations and entries will plummet. People will abandon UKC, not because we don't like the organization, but simply because there will be no shows to enter. Your goal is to ensure paperwork will be handled properly, but this rule will
eliminate all paperwork.
No shows = no paperwork.
If you want guaranteed smoothly-run, consistent shows... hire an expensive superintendent. But then you might as well allow professional handlers, hairsprays and dyes, and the liberal tossing of bait. Sure, UKC shows aren't always run with the cold precision so often seen in AKC... but I'd like to think most of us who love UKC are willing to accept that. After all, this is a family sport - and I'd like to think the UKC family is okay with a slightly more casual approach to paperwork if it means we still have a supportive, honest, wholesome, educational and welcoming place to show our dogs. In UKC, I know my dogs' wins are earned, not bought or bribed. It doesn't matter that I'm a "nobody" - in UKC, I'm "somebody" - just like everyone else - and it is the hard work and dedication of the
clubs
hosting the shows that makes that possible. Give honor to whom honor is due, and repeal this rule. Trust your clubs, because without them, you are nothing.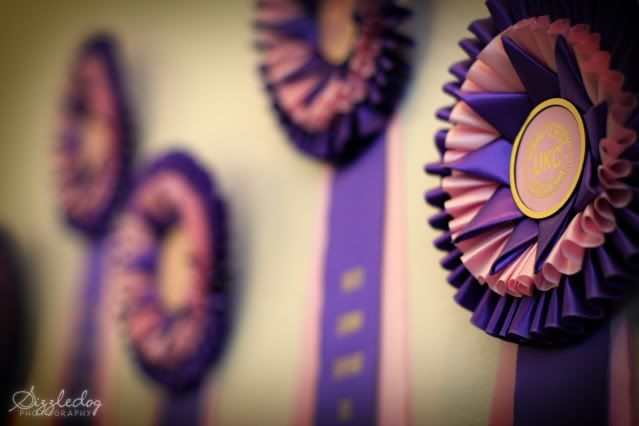 Sincerely,
Leah Petesch, owner and proud handler of:
MBAIMBS/MRBAIMBS ALCH Bruda Sense of Duty CGC TDI
BIMBS/RBIMBS CH Bruda Whip Up A Dream Debut TT CGC TDI
MBAIMBS/MRBAIMBS ALCH Bruda Hero of Canton TT
(Yeah, this is something important enough for me to sign my full name.)
Readers, if you would like to help us convince UKC to repeal this rule, please email Tony Vacha at

tvacha@ukcdogs.com

and copy

conformation@ukcdogs.com

,

mtank@ukcdogs.com

and

dvavla@ukcdogs.com

. If the phone is more your style, call

269-343-9020

and ask for Dog Events or Tony Vacha. If snail mail is your thing, fire off a letter to

United Kennel Club, Attn: Dog Events, 100 E Kilgore Rd, Kalamazoo MI 49002-5584

. If you're on Facebook, please Like the petition found at

http://facebook.com/PetitionAgainstUKCESRule
.