I went "home" this weekend.
It was fun, and I accomplished a lot. I got to visit my parents, which is always a treat. I got to eat at The Vernon Inn (a Greek restaurant that has been a Cedar Rapids institution for more than thirty-five years) one last time before it closed. I got to participate in a 5k in honor of one of my high school teachers, who is currently waiting for a heart transplant. I got to spend time with many of my friends from high school, which was definitely the highlight of the weekend. Before I headed home, I got to do some work for Illinois Doberman Rescue.
I was going to write about Cedar Rapids tonight. But after my run tonight, I decided to talk out (type out?) a mental rat-nest that I've been trying to straighten out for a few weeks now.
First, I'll explain why this is bothering me so much.
I love to run. I always have, though I must have forgotten for awhile. Starting running again has marked a real shift in the way I live my life. I know that sounds corny, but it's true. To make it even better, my best friends from high school also love running. After the 5k today, we all headed to a late breakfast - we talked about other races coming up, as well as the
Warrior Dash
and the
Run For Your Lives
zombie run. I got excited about running all over again.
Come on,
doesn't the Warrior Dash look fun? I wish I was able to do it this year... it kills me that I won't be ready for it.
So I got home and decided that I was going to run a 5k tonight. I've done it before, so I didn't think there would be any huge issues. It was somewhat of a disaster, to be honest. I had forgotten to charge my iPod after my drive to-and-from Cedar Rapids, so it died at Mile Two. Drat. I can't run and listen to myself breathe at the same time, so I decided it was a sign from the gods and headed back.
As I walked home sans-tunage, I had some time to think about stuff. Yeah,
stuff.
I finally admitted to myself that I hate my shoes. Specifically, the uber-expensive Nike Shox Roadsters I run in.
I knew this was going to happen. While I don't like that it eventually
has
happened, I'm not upset about
why
it happened.
Let's be realistic. I can't spend 7 days a week wearing minimalist footwear and then expect to be able to instantly switch to a pair of elevated-heeled, padded clunkers and run three miles. I spend 99% of the time teaching myself to move correctly again, only to do
this
to myself on my my runs: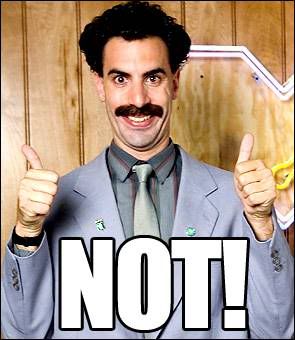 I have a few options.
Option One, a.k.a. the HELLZ NO Option.
I can go back to wearing normal shoes all the time. You can see why I call this the HELLZ NO Option. I'm not doing it. I refuse.
Option Two, a.k.a. the Cheap Yet Frustrating Option.
I can continue to run in my clunkers, but decrease the distance. I don't like it, because it doesn't really solve anything. It's the "treading water" option, or possibly the "running down an upward-moving escalator" option. I keep doing what hurts, but make it hurt less by getting further away from my goals for an indefinite amount of time.
Option Three, a.k.a the Aren't You Already Poor Enough? Option.
This is the option I'm leaning towards, even though I can hear my debit card screaming
Noooooo! Nooooo! Nooooooooo!
from inside my wallet. I need to buy a pair of Vibram FiveFingers specifically designed for running, and take the time to learn how to run in them. Yeah, I'll have to decrease my distance for awhile, but ideally I'll be able to work back up to three miles again.
After much deliberation (not really) I decided on Option Three. It just so happens that REI is having a huge sale, and I was able to get 20% off a pair of Spyridons. These will arrive on my birthday.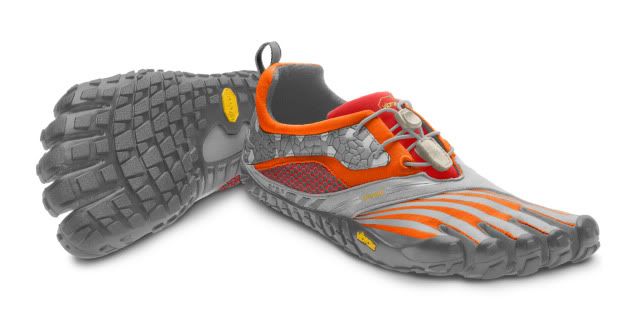 Awwwww yeah,
they're not black!
I can finally bring a little vibrancy to my Vibram FiveFingers collection! They are Spyridon LS design - specifically designed for trail running. My research did show, however, that they're fine for road races as well - especially once they're worn awhile and the lugs have a chance to be worn down a bit.
I can't help but feel a bit guilty. I got them on sale, but I still spent a fair amount of money on them. But I keep telling myself:
1. it was inevitable
2. being a cheapskate won't make your shins stop hurting
3. they will enable you to reach your goals
4. it's your friggin' birthday... TREAT YO SELF!