His name is Hugo.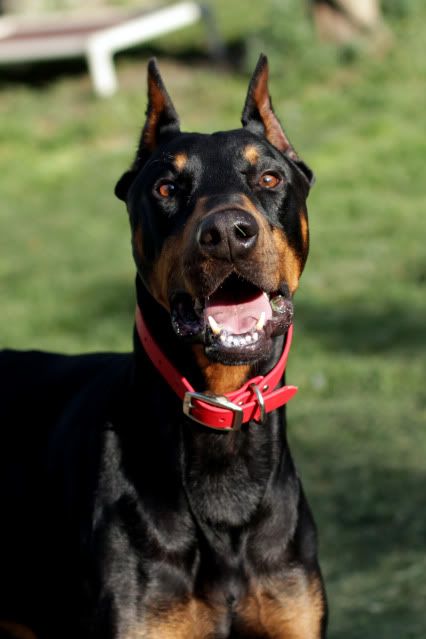 He's about four years old, black and rust, cropped and docked. He was turned into my hometown's shelter as a stray, but failed their temperament test through no fault of his own. Sometimes, it just doesn't pay to have non-Doberman folks assess Doberman temperament.
I evaluated him a week ago, and decided there was nothing wrong with this silly boy. I picked him up this past weekend, and immediately sent him off to our vet up in Ames for neutering and vetting. I hope he's not too mad at me for that!
If anyone is looking for a handsome DoberBoy, please consider applying for Hugo. He's an impressive dog - he won't be winning any conformation shows, but he's definitely got that "stallion" look that male Dobermans are known for. He's a leaner, and loves plopping his head in your lap for petting.
He's probably not a candidate for homes with other male dogs, or with cats. I haven't mingled him, but at this point I think he'd be best as a single dog, or maybe with another large breed female companion.
As for kids, due to the reason why he failed the shelter's temperament test, I'm going to say 12yrs old and up for now. I'll be honest, he barked at the evaluator when she invaded his personal space and stared into his eyes for a prolonged amount of time. I think his actions were completely justified, but I can't trust a young kid not to do something similar. Any potential adopter of my boy Hugo can't be a moron. (Apologies to all the morons out there... I know you want Hugo, but you can't have him if you're dumber than a box of tacks.)
He's the quintessential "bubba dog" - a dog that would be at home at a tailgating party or fishing trip.