Last weekend I found myself driving down an endless stretch of Nebraska highway (75 mph speed limit, woohoo!) to get to yet another dog show. Aryn and I managed to break our existing pack-record for the HHR... getting two dogs, two chairs, two coolers and various bags full of clothing and dog junk into the cargo area.
(Tangent: One of these days, I'm going to take a photo of everything we cram into the HHR.)
The conformation part of the weekend was a disaster. Rocket is a
nice
dog, he really is, but he doesn't look like anything else in the ring right now. Our breeder produces awesome dogs, but many of them have a "retro" look - like something out of the past, and not in a bad way. Problem is, judges don't know what to do with them... so they get dumped.
Phew, that was a dreary paragraph. Let's talk about something brighter... lure coursing! Despite it being freezing cold, the dogs had a great time at the Coursing Ability Test. Rocket finished his CA and only needs six more CAT legs for his CAA, and Kaylee earned two very enthusiastic (and loud) legs toward her CA.
(Above: Unbridled power, right there... GO ROCKET! Can you imagine being a criminal, and being chased down by that dog? I know, better pack an extra set of underwear!)
The following set of photos are all of my rockstar girl, Kaylee. Most were taken by my friend Julie, but the ones with the watermark were taken by Doug Neal... thanks Doug!
(Approaching the start line... she was being a little obnoxious.)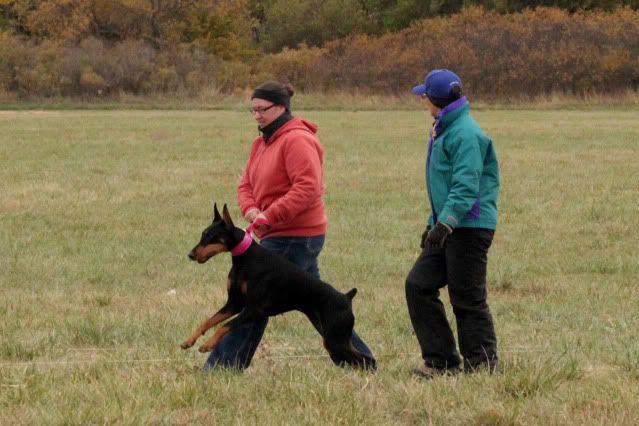 (Still pulling like mad... almost there!)
(THE SLIP! You can see how wide here eyes were, and how her neck fur was all scrunched up from how tight the slip lead had to be... she's a maniac!)
(I love this shot - poetry in motion, and SO powerful. Dobermans just ooze power, it's part of why I love the breed so much. Sighthounds may be Ferraris, but Dobermans are the squadcars in pursuit!)
(Getting closer! Notice how nice her running form is... she's learning how to be a better courser.)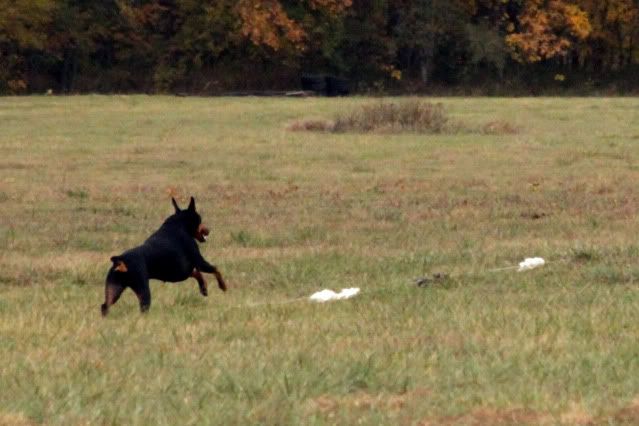 (Almost on top of them! Notice the black bag - I've never seen a black bag used before, but apparently the judge used it to add more contrast. You learn something new every day!)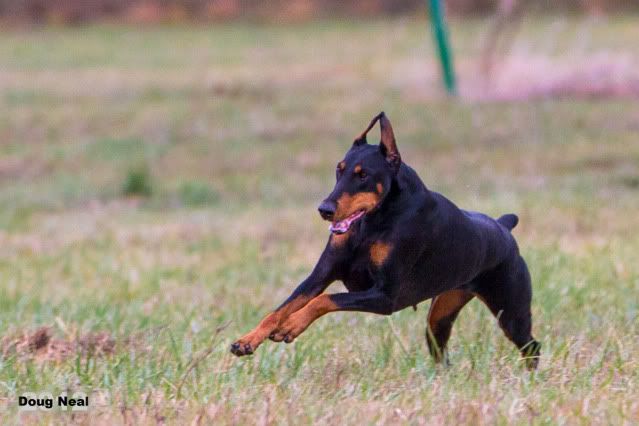 (Another amazing shot... rippling muscles, crack ears, plus that scarily intense look in her eyes... )
(The catch... and it was over in roughly 45 seconds... 13 yards per second, 27 miles per hour. Not too bad, not too bad.
The CAT dogs were the last ones to run. I did make an observation that I nearly forgot about, but I'm glad I remembered... because I can talk about it now.
A lot of work goes into putting on a successful lure coursing trial. Volunteers are needed, but few people actually seem to step up and help. One of the criticisms I've heard about us CAT folks is that we don't care about any of this, and that we have nothing to offer lure coursing clubs by way of assisting others.
Out of the eight or nine people that stuck around to tear down the field... five of us were CAT folks. The rest were members of the club that put on the trial and test. So for those of you who think we CAT people are a burden, remember
this
- When the sighthound folks drove off, destined for their cozy hotel rooms and hot suppers, we CAT people were traipsing around in the field at dusk... collecting pulleys... helping with tear-down....
you're welcome.
It was truly a great weekend... the people simply
rocked
- we made several new friends, and reconnected with friends we'd made at other events. I can't explain how happy it makes me to see my dog having the time of her life, and to see so many people cheering her on. I saw this online a few months ago, and it really rings true for this sport:
We do conformation with our dogs for us, not for them.
We do lure coursing with our dogs strictly for them.
However, I somewhat disagree - so far, there's nothing I love more than watching my girl run after those ridiculous plastic bags. It's more thrilling than the biggest conformation win or the longest conformation rosette. To be frank... lure coursing kicks ass!