It's been 552 days, 17 hours, and 34 minutes since I lost the best dog in the entire world.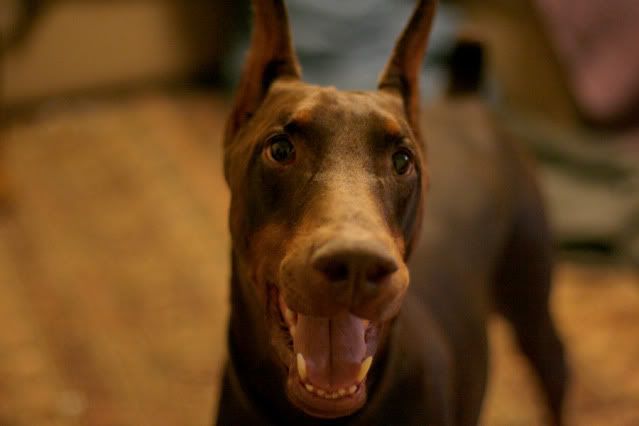 I've been thinking about Ronin a lot recently, and I don't know why
now
, of all the times to think about him, I keep coming back to him... and missing him more than I've ever missed anyone. Tonight I was thinking about tattoo designs -
which is a story for another time
- but again, there he was... pushing his way into my thoughts. I messaged a friend of mine (who also has a special red Doberman) to maybe help me find a way to articulate why Ronin keeps popping up in my mind. Sometimes talking about things with a friend helps me organize my feelings.
I was always his best friend. Every breath he took, he took for me. And every time he looked at me, I swear he he was secretly smiling at some sort of inside joke that only he and I shared.
To Kaylee, I'm a partner. To Jayne, I'm a parent. To Ilsa, I was a servant. To Ronin, I was...
everything
. I was the cosmos inside the mouth of Vishnu.
(See? I knew I'd eventually find a use for that minor in Religious Studies!)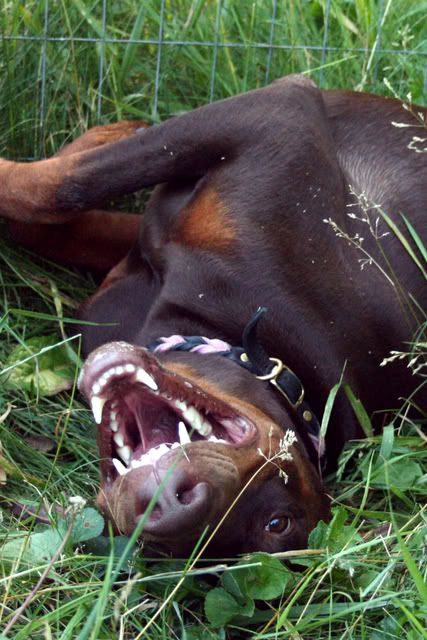 He was just like Jayne.... he needed so much help. Like Jayne, I was stupid to get him. His previous owners fucked him up.
(And no, I will not apologize that f-bomb.)
When I met him, Sandi had us all sit at the kitchen table with our hands in our laps and told us not to look at him or touch him. He was stressed, running around the kitchen and panting, but eventually he stopped next to me and just... looked at me. And I knew he needed to come home with me.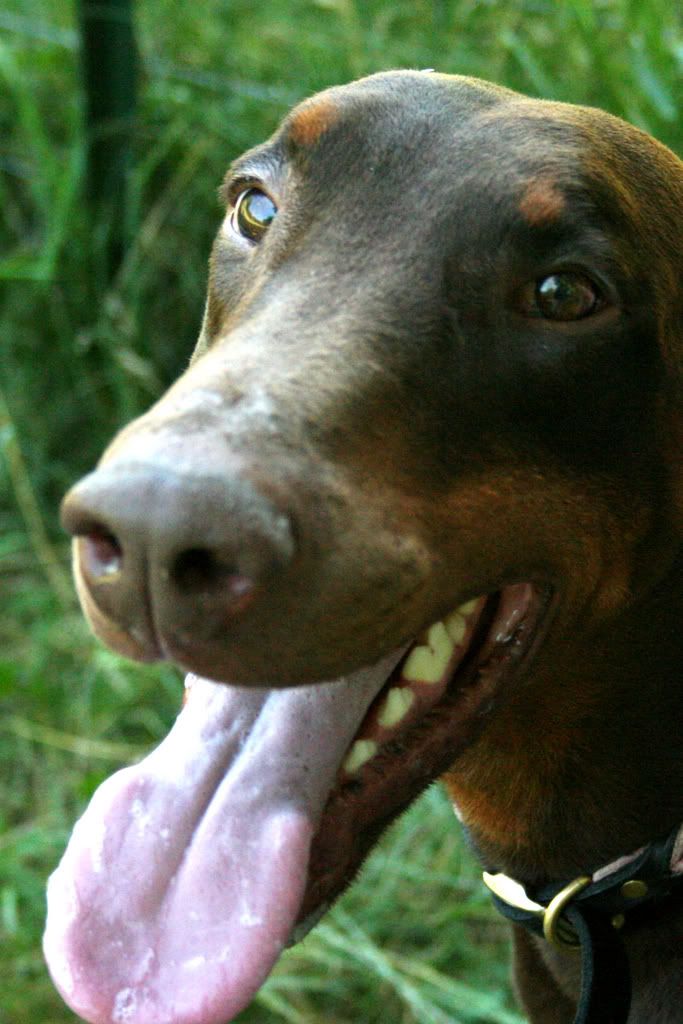 I wasn't sitting in that house to buy a 20 month old dog with issues. I was there for a confident, happy, well adjusted, 12 week old red puppy from the Tyler x Fawnie litter. When I finally worked up the courage to ask Sandi if I could have the crazy one instead, she looked at me like I was insane and said, "you don't want that dog."
But I did. I don't know why, but I just
did.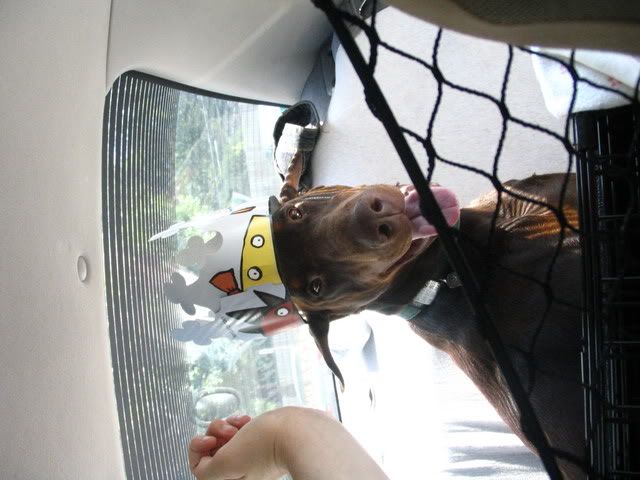 And I tried to show him, I really did, but he wasn't going to beat Breaker or Ranger or Bryce or any of the other nicer dogs that were always his competition.
He was nice, but not nice enough for a completely novice owner handler to finish.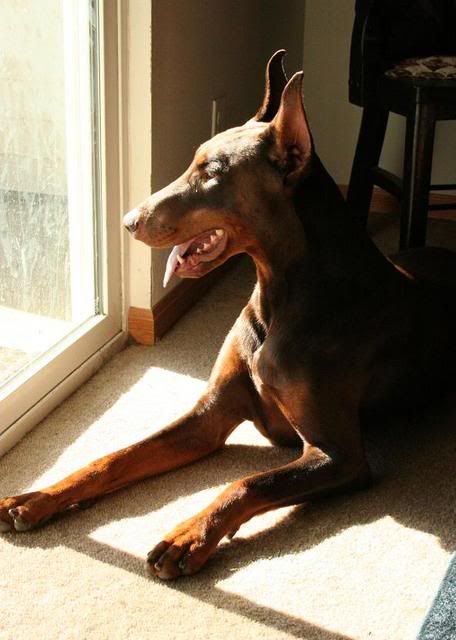 After a few years, I found myself at a show in Iowa City and Ranger won Best of Breed again, and Sandi pulled me aside and nicely told me that Ronin wasn't going to finish no matter how hard we tried, and that if I really wanted a show dog that would put me "on the map" in the breed, she would take Ronin back and give me Ranger.
(Side note: Ranger ended up being a Best in Show winner, and is the sire of my Kaylee.)
I said okay. And I was excited, because I was finally going to have the champion I wanted
so
badly.
But on the drive home, I looked in my rearview mirror and saw Ronin looking at me like I was his own personal god, and I started bawling. I cried the whole way home. Then I called Sandi and told her I'd changed my mind about taking Ranger. I knew that I could live without ever having a champion, but I
couldn't
live with myself if I turned my back on a dog who would
never
turn his back on me.
That was the last time I ever considered returning a dog because of what they
couldn't
do for me. And that lesson (and the guilt of knowing that for an hour or two, I was okay with shattering that dog's whole world for my own selfish desires) will be with me the rest of my life. I don't think I could ever apologize enough to Ronin for what I almost did.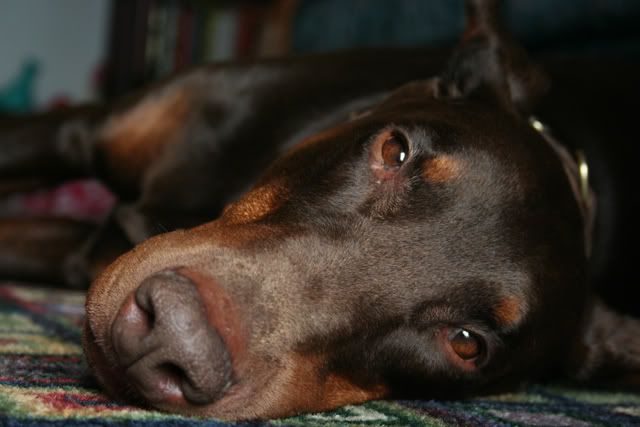 So suffice to say, I think if there ever was a dog that I'd give up everything I have, just to have back for one day, it would be Ronin. We'd go for a car ride, and go hiking offleash in The Pits, and dig holes in the dirt, and throw a tennis ball around, and share a pint of ice cream, and I'd hug him and tell him how much I love him. And he'd roll around on his back, break a few windows, get mud all over my car, and he'd lick my face and fall asleep in my lap. And it would be worth it.
When I think back to Ilsa, I'm ok.
But when I think back to Ronin, I just want him back.
When he went into heart failure, we knew he wasn't going to get better. On a Friday, we scheduled his euthanasia for the next upcoming Wednesday. He was going downhill fast, and my friend Sam said she wanted to come see him one last time. Sam had known him ever since he'd come to live with me. We had traveled together to dog shows back in the day, so she'd gotten really attached to him and vice versa. She'd since moved a few hours away, so I was glad that she was willing to make to trip down to say goodbye to an old friend.


Sam showed up late on a Saturday. In the middle of the night, Ronin got up and went out to the living room to sleep next to Sam. Sunday morning, we had trouble getting him up. I half-carried him to the backyard so he could potty. Those were his last steps... his heart finally gave out for good and he died in the backyard. It's almost like he wanted to say goodbye to Sam too, and that he held on until he could see her. It couldn't have been easy for him to get up and go sleep beside her, but he did it and I want to think that he knew that I wasn't the only one that needed him that night.


A few hours later, Sam and I picked him up, put him in the car, and took him to Lovingrest to be cremated. I didn't cry. It was a nice morning, sunny and cool, a light breeze and just a little bit humid. All I remember was feeling tired and frayed and kind of greasy since I hadn't thought to shower before leaving for the pet crematory... but I felt lighter, knowing that he wasn't suffering anymore.