I should probably be ashamed.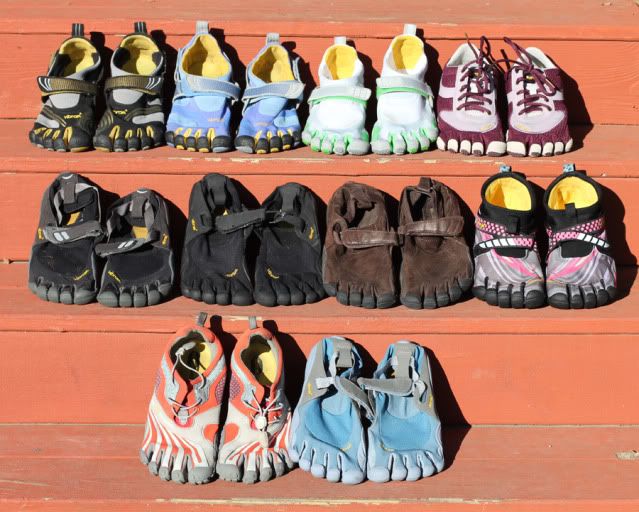 Komodosport, Komodosport, Bikila, Speed.
Treksport, KSO, Trek, Lontra.
Spyridon, KSO.
I never intended to get this many pairs of shoes, though I must admit that I only paid full price for one or two pairs. I wait until they go on sale... I'm not a moron. I'm done now though - I don't need any more. (Though I wouldn't be upset if somehow I ended up with a pair of Jayas. White, size 40.
SHOOT, they're on sale at REI for $58.93!
Argh!) I should point out that I do use each style for different activities though:
KSO
I usually wear these in the summer. They're versatile, so I can easily wear them out hiking or out to the store. They do get a bit toasty on extremely hot pavement though.
Komodosport
These are the ultimate all-purpose VFF, and the style I recommend to everyone as their first pair. I wear them everywhere. The soles are a tad bit thicker than KSO soles, so they don't get hot in the summertime and mask the feel of sharp gravel much better.
Treksports
I wear these on short hikes, and occasionally to work when I happen to be wearing black pants. TO be honest, the thick lugs on the toes of Treksports sometimes give me sore spots, so I wear these as infrequently as possible. I do like them when I have to spend an entire day on dirt for an agility trial though - they get excellent traction.
Trek
These are leather, and the only reason I bought them was because they are leather. This means I can wear them to work. These are probably the least comfortable, least attractive pair of VFFs I own. I don't like them, but they're a necessary evil. It doesn't help that they have Treksport soles, blech. These are discontinued - so if you want a pair, be prepared to do a lot of online hunting.
Spyridons
These are my dedicated running VFFs. The sole is quite aggressive and feels different than any other VFF sole I've tried. I love them for running, but I'd imagine wearing them to Whole Foods would be feel strange.
Speeds
Speeds are my favorite "fun" all-rounders. I don't think I'd wear Speeds out on a hike, but that's only because I have other models better suited to getting dirty and nasty. These are based on the Bikila platform so they do have a tiny amount of arch support, but they're flexible and thin so you do get a decent amount of ground feel. I like wearing these when I want to wear fun shoes but not instantly get noticed for wearing "weird" shoes.
Bikila
These will be my running shoes for times that I'm running on asphalt. Spyridons can feel a bit lumpy on artificial (hard) surfaces, whereas the Bikilas feel smoother. These are one of the more recent pairs I've bought, so I haven't had a chance to get to know them yet.
Lontra
I'll pull these out when the weather gets really cold. They're designed for cold and wet weather, and are currently my only water-resistant pair of VFFs. They're built on the Treksport platform (darn it!) but they do seem to fit well. Of course, the temperature hasn't dropped below 50 degrees ever since I got them, so I haven't had a chance to test them out in arctic temperatures yet!
Anyway... yeah. There's my spiel on one of my more ridiculous addictions.