... on that great California Highway? (Sorry Dan, if you don't want me to alter your lyrics, you should write a song about California.)
I've talked about my friend
Jess
before. Click her name... it'll take you to her hilarious blog. We've been friends since high school... which probably makes her my oldest friend (in terms of length of friendship) since I didn't really have friends in elementary or middle school. At least, not any true friends I continued to hang out with after moving on to the next educational tier.
Not to be overly sappy, but I think high school would have turned out a lot less awesome for me if Jess hadn't been my friend. Anyway, here we are: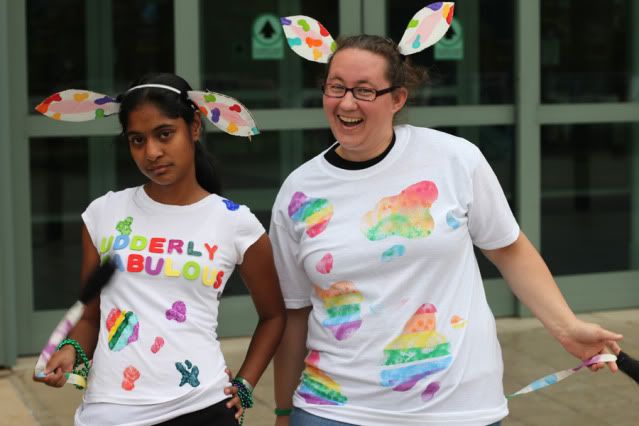 In August, Jess is moving to California... and I'm going with her. It's still a bit surreal, because this is the last thing I ever thought I'd be doing this summer. I was pretty much convinced that I would be staying home, working my butt off, and doing dog activities. I'm still doing all of that, but now I'm also taking a week off from work and spending eight days on a cross-country road trip to the west coast.
I'm the psychotic planner-beast of this duo, so I've already started planning our route. As of right now, we will be making the drive in three days:

Day 1: Prairie City IA to Cheyenne WY | 9.5 hours, 648 miles
Day 2: Cheyenne WY to Elko NV | 10 hours, 667 miles
Day 3: Elko NV to Alameda CA | 7.5 hours, 505 miles
Day 4 will probably be spent recuperating from our grueling journey. Day 5 through 7 will be spent in California... waiting for the moving folks to deliver all of Jess's stuff. When we're not doing that, we'll be exploring and having fun. Jess already said she will put up with my dog collar obsession - that means I get to visit the Paco Collar store! Day 8 I will fly back to Des Moines, and hopefully I can find someone to pick me up from the airport and drive me home. (Hint hint... can someone pick me up?)
We're still working on an official name for our journey. I'll post updates when I have them.