Oh boy. I've talked about Paco Collars before, but I find myself tooting their horn yet again. Not only are their products amazing, but they have an
amazing
staff. I had the pleasure of meeting many of them in person - once at a collar decoration class in Minnesota, and once when I was in California on vacation.
And it all started with this collar.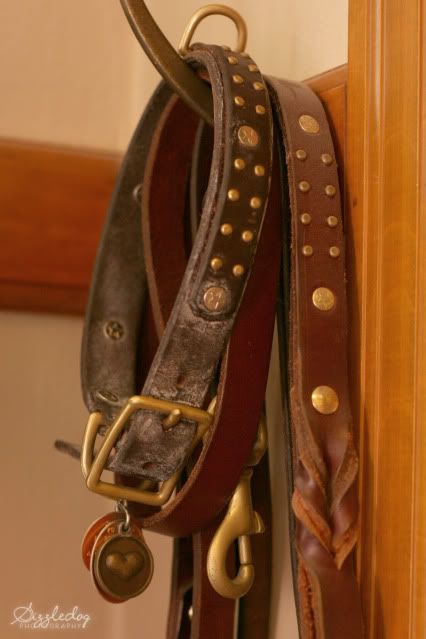 When this photo was taken, it hadn't been worn for several years. I never cleaned it after Ilsa died, and over the years her skin oils have turned white. I can't bring myself to wipe it down. It hangs by my front door, along with the Paco collars that belonged to Revy and Ronin. As you can see, I place very high value on each dog's collar from Paco.
I bartered for my first two collars. I worked at a print shop, and Paco Collars needed letterhead and thank-you cards. It was a great exchange, especially since there was no way I could have afforded Paco collars at the time. Let me repeat that... Paco accepts barter.
Here's my Paco Collar collection from a few years ago.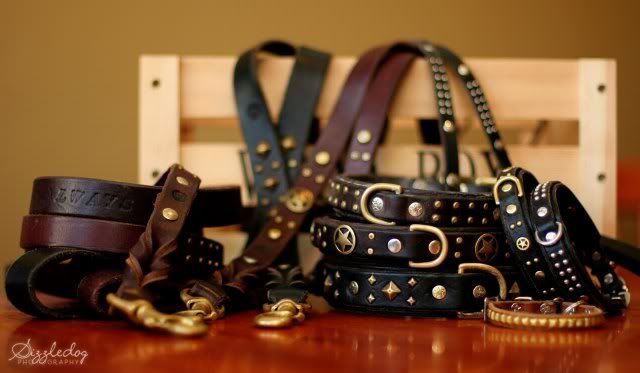 Paco collars are tough mothers. I briefly mentioned the flood we experienced in 2010. Our basement flooded at one point, and we had 20 inches of water down there for several days. To my horror, I found most of my dog gear in the basement after the water had been pumped out.
Then there was this collar, which somehow had floated into the canning room and sat in a puddle of flood water - under a metal shelving unit - for three months. This is what it looked like the day I pulled it out from that stagnant pool of water.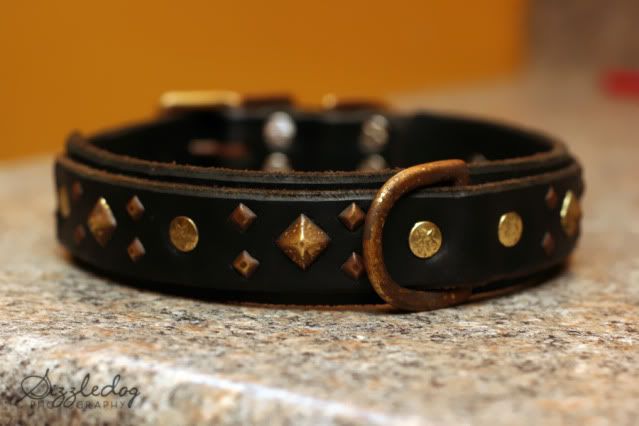 It was tarnished and smelly, but it was sound. I wiped it off, cleaned it with saddle soap, and let it fully dry out. Three years later, it's still beautiful.
Another beauty from Paco Collars...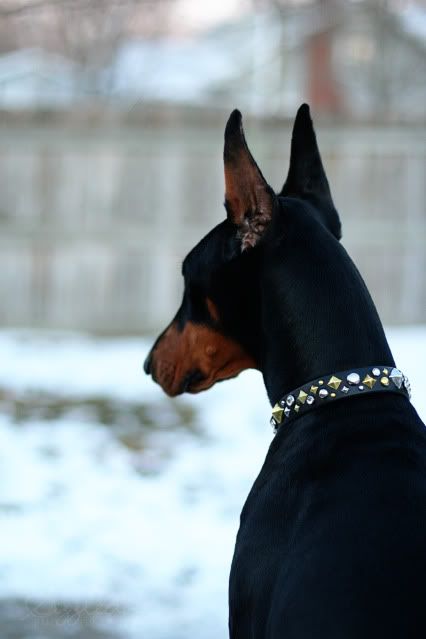 I pulled Jayne's collar off and photographed it. He's had it a few years, and he's rough on collars. I didn't clean this collar beforehand. I didn't even wipe it off.
I did the same with Kaylee's collar...
... and Talla's as well.
Here's another one of Jayne's collars. The tan does darken over time, but I can't help but love it. I find it to be much softer than the other colors from the very beginning.
Even my cats have Paco Collars!
I know I haven't really said anything new on this review, or explained from a technical perspective why Paco rocks, but I just had to write about the saints at Paco one more time. They're remarkable people, and about as friendly and down-to-earth as you'll ever find in this world. The owner in particular is one of the most welcoming people I have ever met, and I will forever consider her a very good friend.
So thank you, Paco Collars, for being totally awesome. Iowa will always be home to one of your biggest and most loyal customers. Next time I'm in California, I'll stop by to say hello!